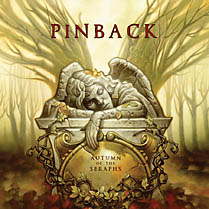 Like just about everyone, I often think of bands in terms of the other bands of which they remind me. For Pinback, I picture them as a West Coast Sebadoh. Even though it's meant in the most admiring way, such a classification is not fair because it may make it sound like they're somehow aping the discordant yet melodic Bostonians who like their Splatter Technique lyrics with healthy doses of punk guitar and punker feedback. Plus, there's the whole repetition thing that Pinback takes much further than Lou and the gang: chords, chorus, repeat. You can hear it all the way through Pinback's discography and right up to their most recent, Autumn of the Seraphs. And contrary to every track sounding the same, each one finds a new way to make the same old thing sound totally original. No wonder Pinback's following is so loyal. Check out a new track and some older ones, then check out Pinback guy Rob Crow, whose recent solo release kinda-sorta sounds like Pinback but kinda-sorta covers even more new territory.
ORIGINAL POST (9/17/04):
For those who consider "indie" a genre rather than just a classification, it's probably such lo-fi, wounded-guy sounds as Sebadoh, Built to Spill, and Modest Mouse that come to mind when you hear the "I" word. But don't forget about Pinback, who return to rock your world — well, that may be a bit overstated — with some loopy, melancholic, melodic pop. What's new is "indie" again on the splendid single "Fortress." The others are just for nostalgia's sake.