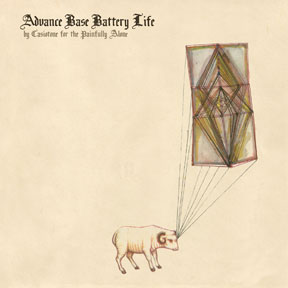 Here's one that's long overdue for an update and what do you know we're just in time for Casiotone's single collection due out this week. It's called Advance Base Battery Life. The opening track, "Old Panda Days," is classic CFTPA and highlights Owen Ashworth's cunning command of couplets rhyming "boyfriends I shouldn't have kept" with "stupid flatbeds we never swept." You'll have to listen to get the context. Not one to leave us hanging, Ashworth will quickly follow his singles and rarities collection with his fifth album, Vs. Children, of which "Optimist vs. The Silent Alarm" is part and proof that while Ashworth may be a one-man band, a one-trick pony he ain't.
Note: Be sure to check out the SXSW Megamix from Tomlab, K Records, and Asthmatic Kitty. No medley nonsense here, just lots of full-length gems.
Old and Panda Days [MP3, 3.2MB, 192kbps]
Optimist vs. The Silent Alarm (When The Saints Go Marching In) [MP3, 2.1MB, 160kbps]
Sam's original post 2/4/2006::

Casiotone for the Painfully Alone has been one of those monikers that kinda gives away the ending before you even press play — like Rage Against the Machine, or Insane Clown Posse. I say "has been" because now Owen Ashworth (who from some angles looks remarkably like 3hive's Jon Armstrong, see for yourself) has joined forces with producer Jherek Bischoff to expand his sound beyond its lo-fi trappings. "Young Shields" is the lead-off single from the resulting album, Etiquette, which by all indications still speaks to the Painfully Alone, just with less Casiotone (and a lot more of everything else) than before. "Cold White Christmas" is also from the new joint… Where was this track when I was putting together my Christmas podcast? Oh well, this one defies seasonality. When isn't a good time for some chilly melancholy?
Young Shields [MP3, 2.9MB, 128kbps]
Cold White Christmas [MP3, 4.6MB, 128kbps]
Bobby Malone Moves Home [MP3, 2.5MB, 160kbps]
New Year's Kiss (version) 4-track home recording [MP3, 2.5MB, 160kbps]
Graceland [MP3, 2.5MB, 160kbps]