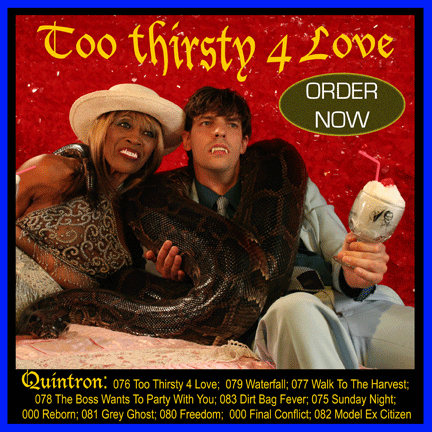 It's time once again, for a number of reasons, for Mr. Quintron to appear on our fair pages four years to the day since he first featured. The biggest reason being his new album that came out two months ago on Goner Records, Too Thirsty 4 Love. Recorded on 2 track, it's Quintron playing his custom Hammond/Rhodes combo organ with working headlights and utilizing his Drum Buddy creation, in his native New Orleans with his partner in crime and puppet shows, Miss Pussycat. The other reason: I needed something to help me get over some High School Musical-inspired, Disney Channel-ish, over-produced, over-scripted, pre-teen/teen flamboyance. Let's just say Mr. Quintron came through for me.
Original Post: Jan 5, 2005:
This one is for Sean. Over the years, Sean and I have recommended bands to each other, with limited success. It all started back in 1993 when I went into the music store where Sean worked and told him I was bored with everything in my music collection. He handed me a Green Day CD which I traded in shortly thereafter, despite the rocking cover of the Who's "My Generation." Sean, a la Ronald Reagan, says he "cannot recall" handing me Green Day, but I assure you it happened. Another notable moment was in 2000, when he and I (and Sam) were in San Francisco at Ameoba. I recommended Jessamine to Sean; he bought a CD, and probably traded it in shortly thereafter. But it all finally came together, thanks to 3hive, when Sean posted Louis XIV. I just love "God Killed the Queen." Success! I then hipped him to an early '90s British band, Five Thirty, whose mod, power pop, blues, fuzzed-out wah stills gets my feet shakin'. Another success! So after our little fun with The Herms yesterday, I wanted to post Mr. Quintron for Sean. Mr. Quintron is a one-man band and organist extraordinaire, who has also invented the Drum Buddy (see below). It is to my great shame that this New Year's Eve I missed Mr. Quintron playing "Grandfather Time" at the stroke of midnight at the Hi-Tone in Memphis, just 12 minutes from my house.

www.goner-records.com
www.skingraftrecords.com
www.drumbuddy.com
www.quintronandmisspussycat.com
myspace.com/mrquintron